ROMANHATTAN FILMS

POMPEII NEW YORK
In Pagan Puritan Gotham, love hunters pursue their rituals on a crumbling pier reminiscent of ancient Pompeii, where they find the unexpected.
A film written and directed by Ivan Galietti
With Tina Aumont, Phoebe Legere, William Niederkorn,
Michael Oppedisano, Kevin Bradigan, Vincent Barnes,
David Wojnarowicz, Karl Michalak, Melinda Ritter,
Joey Voitko, David Said, Terry Robinson, Dieter Hall,
Sante Scardillo, Ivan Steiger, Kip Turner, Orham Mehmet,
Penny Arcade, Aner Candelario, Carlo Jimenez,
Rick Baxter, Donald Berman, John King, Daniel Posival,
Bill White, Edward Willis, Iara Sapoznikow,
Taylor Mead, Lorenzo Pozzan.

Original songs by Hawkins/Niederkorn and Phoebe Legere
Original score by Victor Frost

The film is a work in progess and in need of additional funding.
A first segment POMPEII NEW YORK, PART 1: PIER CARESSES, featuring among others,
David Wojnarowicz, has been shown in a few festivals and venues including:

The 1985 Torino Film Festival in Italy

The 1985 New York Downtown Film Festival.
At legendary club 8BC. In NYC's East Village

The New Museum "East Village USA" in New York in 2005,
the 2007 Sulmona Film Festival

The 2010 Oberhausen Film Festival in Germany (in German)

The "No Wave Retrospective" at the Film Museum in Vienna in 2010,
the Hebbel Theater in Berlin, in 2011

The Piers: Art and Sex along the New York Waterfront,
The Leslie-Lohman Museum of Gay and Lesbian Art, New York 2012

Cleveland Museum Of Art : "The last days of Pompeii: Decadence, Apocalypse, Resurrection"
as part of the exhibit's film program. Cleveland, Ohio 2013
DIRTY LOOKS: ON LOCATION.
A series of queer interventions on NYC spaces. Rock Bar, New York City, July 2013
THE TORONTO INTERNATONAL FILM FESTIVAL
as part of the NO NEW YORK program. August 2014

PEQUENAS HISTORIAS DA VANGUARDA: DOWNTOWN NEW YORK.
A film program presented in Sao Paulo, Brasilia and Rio de Janeiro. Brazil, December 2014

Pier 46 NYC, Hudson River, 1982

POMPEII NEW YORK, PART 1: PIER CARESSES
A film by Ivan Galietti 16 mm original. 12 minutes, color.
With Phoebe Legere, David Wojnarowicz , William Niederkorn, Sante Scardillo, Ivan Steiger.

A crumbling pier, its walls covered with graffiti and erotic frescoes reminiscent of pagan Pompeii, the locus of the seduction rituals of men longing for men, is the focus of this meditation on gay cruising at the height of sexual freedom before AIDS. Shot in 1982, this is the first segment of a film capturing the life, death, and rebirth of the legendary "sex piers" over the last three decades.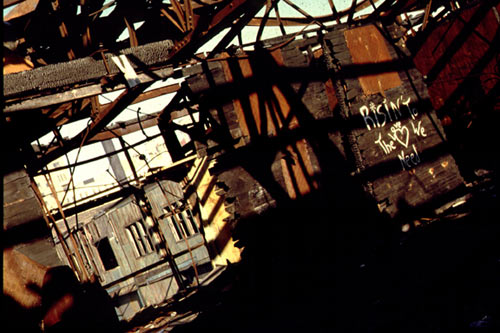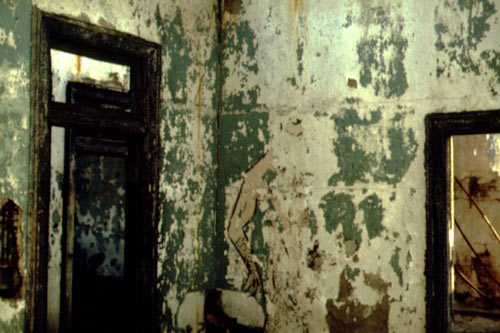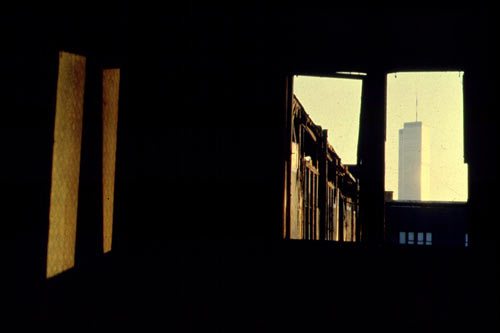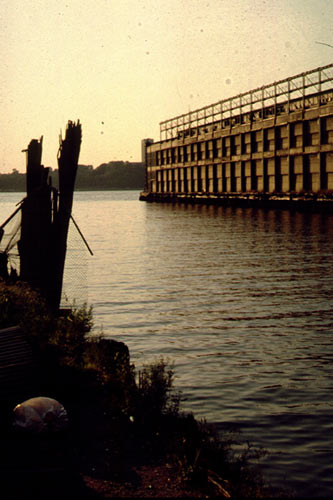 Narration pieces:
Voice of
MICHAEL OPPEDISANO:

"When we were so far from the jungle
That it was completely out of sight,
We encountered those souls
Walking along the pier.
Each of them looked at us
As in the evening men are wont
to stare at one another
under a new moon light,
and sharpened their brow
like the old tailor,
squinting at the needle's eye."

(DANTE's INFERNO Canto XV, Stanza V)
TINA AUMONT:

One goes through one's own solitude
In search of an antique gesture
In this universe of ghettos
Thirsty for filthy tenderness
By an unconscious hunger for love.

Voice of IVAN STEIGER:

Once inside the old pier
I felt as if I were
in ancient Pompeii,
when the phallic cults flourished.
Where representations of the male organ
Frequently appeared
And were worshipped as divine symbols
Of the creative forces of Nature.

Pompeii, 79 A.D.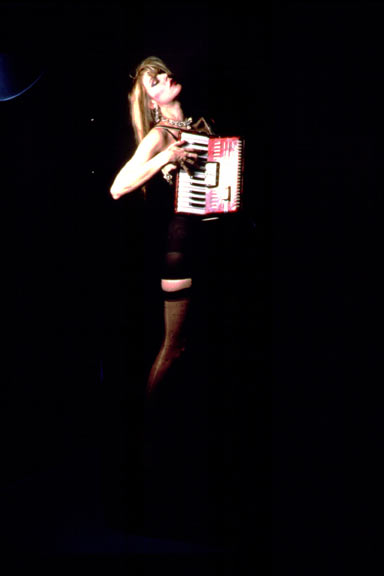 Phoebe Legere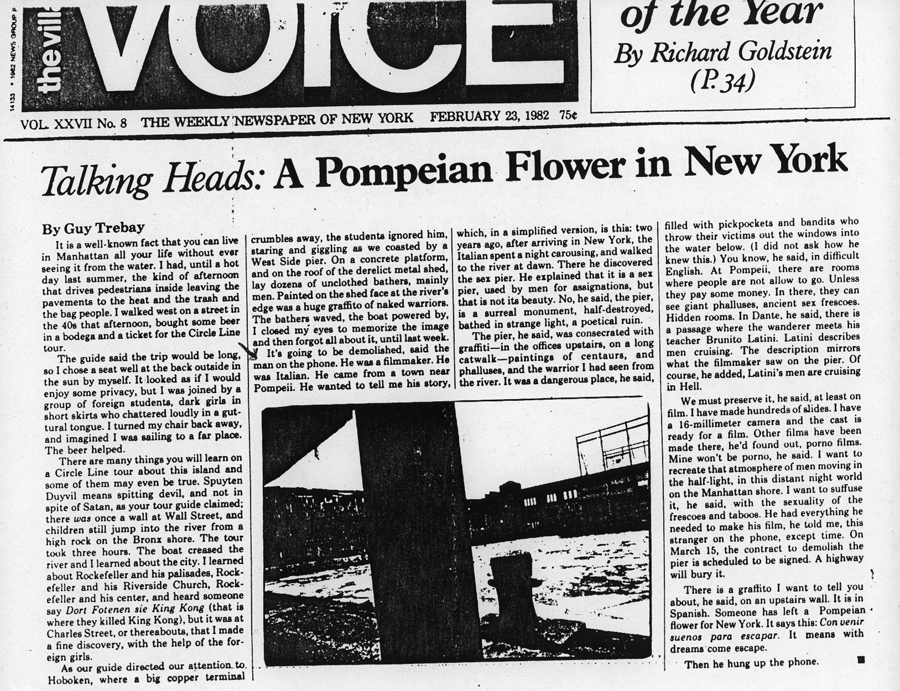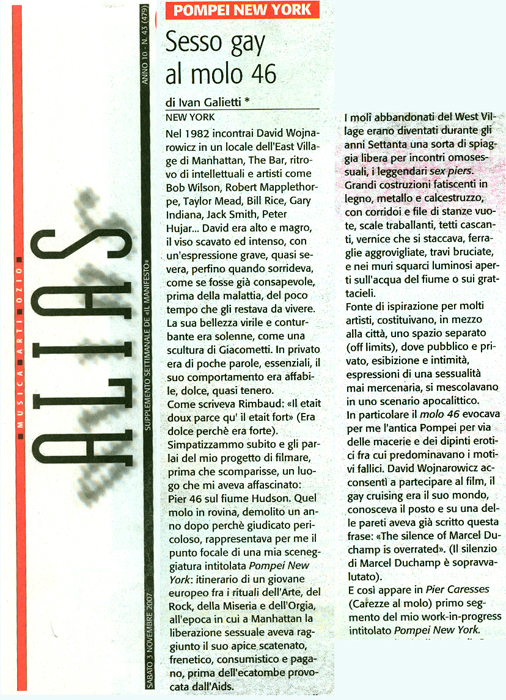 The Piers: Art and Sex along the New York Waterfront
Curated by Jonathan Weinberg with Darren Jones
Exhibition Dates: April 5 – May 10, 2012
Opening reception: Wednesday, April 4th; 6-8PM
Leslie-Lohman Museum of Gay and Lesbian Art
26 Wooster Street, New York, NY 10013
[New York, NY – March, 2012] – The Piers: Art and Sex along the New York Waterfrontis the first museum exhibition to focus exclusively on the uses of the Hudson River docks by artists and a newly emerging gay subculture. It presents over 70 works of art that demonstrate how the gay liberation movement--spurred by the 1969 Stonewall riots--transformed the cultural and social landscape of New York. For the first time such seminal works of the New York avant-garde as Vito Acconci's Untitled Project for Pier 17, Gordon Matta-Clark's, Day's End and David Wojnarowicz's Rimbaud in New York, will be shown alongside little known photographs of the gay cruising scene by Leonard Fink, Frank Hallam, Lee Snider, and Rich Wandel.
After years of persecution and repression in the 1950s and 60s, the counter-culture revolution of the late 1960s brought about many cultural changes; this was especially true of changes in sexual attitudes. Public nudity and sex were becoming more accepted, especially as subject matter for artists seeking new forms of expression. In the post-Stonewall era, these new-found freedoms were swept up into a changing socio-political and historical landscape that gave rise to the gay rights movement. The New York Piers, where many gay New Yorkers gathered in the late 1960s and 1970s, where these new sexual freedoms were often played out, became the crossroads for an emerging gay subculture and for artists of that period.
Between 1971 and 1983, the piers were the site of an enormous range of works by artists as different as Acconci and Peter Hujar, Shelley Seccombe and Tava, Matta-Clark and Arthur Tress. Many of these same dilapidated structures were a locus for gay men to sunbathe naked, cruise and have sex. At the edge of Greenwich Village, this "arena for sexual theater," became the backdrop for elaborate photographic tableaus by Fink, Stanley Stellar and Tress. The Italian filmmaker Ivan Galietti saw the piers as an updated version of the ruins of Pompeii. These same ruins provided abackdrop for Jack Smith to perform Sinbad Glick for Uzí Parnes's camera.


In 1983 Wojnarowicz and Mike Bidlo took over Pier 34 and made it an extension of the East Village scene. In Andreas Sterzing's photographs of the projects by such artists as Louis Frangella, John Fekner, David Finn, and Judy Glantzman, there is a marvelous sense of freedom and community. In general, the piers below Fourteenth Street, were in Gordon Matta-Clark's words a site of "interest, fascination and value," but also risk and sexual adventure.
Please join us for an opening reception on Wednesday, April 4, from 6 to 8pm at the Leslie-Lohman Museum of Gay and Lesbian Art. A panel discussion with the artists and curators will be held at the NYU Fales Library on April 12, from 6-7:30pm.
Jonathan Weinberg, Ph.D. is a painter, and author of Ambition and Love in Modern American. He is a recipient of a 2002 Guggenheim Fellowship. He won a grant from the Creative Capital/AndyWarhol Foundation to pursue his research on the piers and is currently writing a book entitled Pier Groups: Art and Identity along the New York Waterfront, 1971-1983.
Darren Jones is a Scottish artist, based in New York. He received a BA (Hons) from Central Saint Martins, London (1997) and his MFA from Hunter College, New York (2009). He has had several national and international exhibitions. Jones also works as a curator and is a contributing writer for ArtUS.
Jonathan Weinberg, Ph.D.